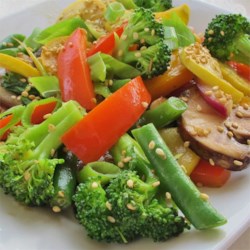 Vegetable Stir-Fry from allrecipes.com
Vegetable Stir-Fry
Slow Cooker Pulled Pork
Baked Chicken Nuggets
I didn't make the
Slow Cooker Pulled Pork
last week so I will make that tomorrow. I don't want it to go bad before I get it cooked! We will also be grilling some hotdogs and burgers this week.
Sly got me a basket, for lack of a better word, that is used to make veggies on the grill. I'm excited to try it out. I have tried to cook veggies on the grill without something like this but it doesn't seem to work out very well for me. Tinfoil gets poked or something, veggies fall out when I'm trying to pull them off the grill, etc. Now I need to find some really good seasoning to go on them!
I have a lot of romaine lettuce in the garden already, I need to get it out before it bolts, and enjoy some salads. Sylvester loves salad so that's something we can all eat for a quick and easy lunch.
I think that's enough rambling for one day. Have a good week!