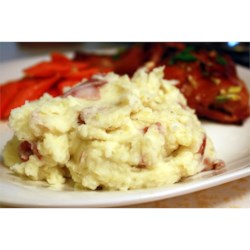 Mashed Red Skin Potatoes from Allrecipes.com
I was going to share a link to the menu I make on Allrecipes.com but I can't seem to be able to unless the person is a pro member. That's a bummer. I was going to show how we set up our left overs for our schedule and all that. I'll set aside time to post the whole thing next week to give an example.
We had Sylvester's birthday party yesterday! He's so excited about all his new "presents" and he got to see 3 grandmother's and his great-grandmother! He liked that. I'll try to get pictures posted later this week.