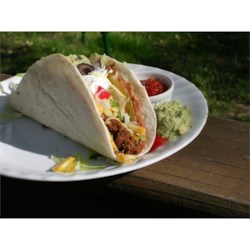 Double Decker Tacos from Allrecipes.com
We broke our waffle iron. We weren't able to test out using the muffin mix as waffles but we'll replace it soon. We decided to have eggs, bacon and toast instead. Probably one of my favorite means.
I've been looking into making water kefir for all of us, especially Sylvester. Any hints or tips would be much appreciated! The
Yemoos Etsy store
was recommended to me by a friend, I think I'll end up getting the whole kit. I really want to try some water kefir soda!