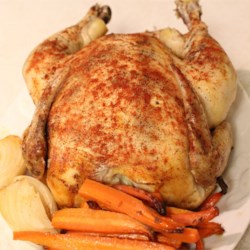 Healthier Baked Slow Cooker Chicken from Allrecipes.com

So, the pumpkin butter I made last week came out alright. It didn't thicken up as much as I would have liked but the flavor and texture are good. Sylvester seems to enjoy it and that's all that matters!
I'm going to use a new recipe to cook the chicken this week, I'm interested in being able to cook the carrots in with the chicken - hello, time saver. I've never had a chicken in the crockpot take 10 hours, though that's what most of the recipes call for, they usually take 6-8 tops. I'll probably add the veggies after a few hours and see how that goes.