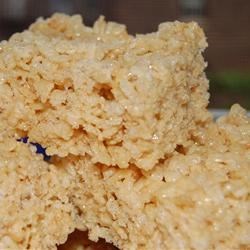 Marshmallow Treats
Parmesan
Crusted Chicken
Double Decker Tacos
Buttery Cooked Carrots
Marshmallow Treats
Sly's birthday is this week! Huzzah! Doubly awesome because, well it's his birthday, and I don't have to cook! My Dad is also coming to visit too, triply

(is that a word?)

awesome! I also finish my finals this week, Thursday is my last one, EVER. So, so happy.
If you look at the "Parmesan Crusted Chicken" recipe it calls for 1/2 cup Mayo and I'll be substituting that for greek yogurt. Not only is it much better for us, we all like the little bit of tanginess that the yogurt adds.