I didn't have to plan any food for Saturday or Sunday, so this week was pretty easy. :)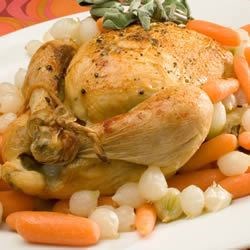 Slow Cooker "baked" chicken from Allrecipes.com
Recipe for this week:
"Baked" Slow Cooker Chicken
Baked Chicken Nuggets
Pepperoni Crescent Rolls
I tried the
Crockpot Pineapple Chicken
this week and the flavor is great but I let it cook a bit too long and it dried out. I will definitely be making this again, the prep couldn't have been easier, I didn't even thaw the chicken.
I probably won't make it this week but next I want to try to make Crockpot Yogurt. I'll try this
Yogurt
recipe from the
Crockpot365
(I love her site!!) blog was suggested to me, so I'll give that a try with a couple changes (also recommended), I'll use 2% milk because it's what we normally get and I'll add half a cup of dry milk for thickness.