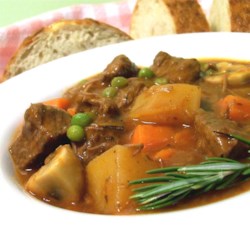 Beef and Vegetable Stew from Allrecipes.com
Our recipes this week:
Beef and Vegetable Stew
Ranch Cheddar Chicken
Pepperoni Rolls

*
I used to use string cheese for the pepperoni rolls but just mozzarella is much cheaper and tastes just as good.
I have been eyeballing the Ranch Cheddar Chicken for a while. We've made this
Parmesan Chicken
recipe several times and it's great, the Ranch Chicken is very similar so I'm assuming it will be good.
I'm also going to make hamburger helper and breakfast (for dinner) this week. I'm trying to keep the left overs to a minimum, since we'll be cooking and eating those all next week too.