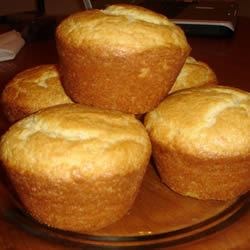 Corn Bread from Allrecipes.com
Monday:
Pan Roasted Chicken with Green Beans
Tuesday:
Cubed Steak and Mashed Potatoes
Wednesday:
Hamburger Helper
Thursday:
Corn Bread
Chili
Friday:
Left Overs
Saturday:
Highland Games - Won't be cooking this day!
Sunday:
Grilled Hotdogs/Chicken
I didn't end up making the Roasted Chicken last night, my Mom ordered everyone pizza. Yay! So I'll make that tonight.
The pumpkin bread I had on here last week didn't turn out well at all. I didn't realize I needed a pan that would fit in the crockpot to make it and, of course, I don't have one. Oh well, we'll try it again later.