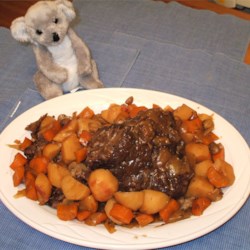 Picture of Pot Roast via Allrecipes.com
Monday:
Stir-fry (of the frozen variety)
Slow-Cooker Apple Sauce
Tuesday:
Pizza
Slow-Cooker Pumpkin Bread
Wednesday:
Slow-Cooker Pot Roast
Thursday:
Left Overs
Friday:
Frozen Chili (from last week)
Saturday:
Left Overs
Sunday:
Pan Roasted Chicken with Green Beans
I'm using the slow cooker a lot this week. It's Sly's long week, he works 4 days, 3 of which are 12 hour shifts, which doesn't leave much time for cooking. So, crock pot to the rescue! It's easy to throw something in while Sylvester is napping and have it done in time to eat.