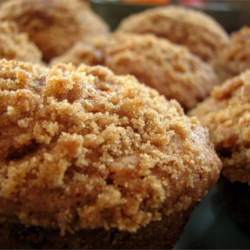 Picture from Banana Crumb Muffins on Allrecipes.com
Monday:
Banana Crumb Muffins
Tuesday:
Chicken Ranch Wraps
Wednesday:
Lasagna
Thursday:
Egg Salad
Friday:
Frito Pie
Saturday:
Baked Chicken Nuggets
Sunday:
Left Overs
I noticed I've been going back and using a lot of the same recipes, which isn't a bad thing, but I'm going to try to get in at least one new recipe a week from now on. Keep things a little exciting! ;)
Monday is our new recipe this week, Sly and I both love muffins (and I'm sure Sylvester will too), so I'm excited about this recipe. We've got some bananas that are almost over ripe, which are perfect for baking with!
Question of the week: What's one kitchen gadget you couldn't live without? Excellent hot pad? Toaster oven? Bread machine? Garlic press? Let's hear it!