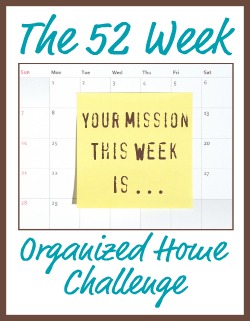 I came across the

52 Weeks To An Organized Home

weekly challenge long before the beginning of the New Year and kept tossing the idea around in my head. I had pretty much made up my mind I wanted to do it, since I left the tab open in

Chrome

this entire time.
The first week is organizing the kitchen, which I love! The kitchen is one place I really like to know where stuff is located. There's nothing more frustrating than trying to bake cupcakes and not being able to find the flour. I use this as an example because it happened to me before we moved into our new house and it was very frustrating! Sly and I have made a habit of cleaning up all the dishes before bed, usually after Sylvester is in bed, so we don't have to worry about washing them before we can cook breakfast the next morning.
We've been in our house for over a year now, but we still have no pictures on the walls and very little by way of decoration. Along with getting organized I want to decorate, but I don't want to clutter our house up with just "stuff." I like decorating, but I also like function and items being toddler proof.
I also have an insane amount of crafting stuff of all kinds and it's constant struggle to keep it all organized and keep track of what I have. I often carry stuff up and down stairs with me depending on where we're hanging out at the time, so stuff gets left here and there. Going to try to avoid doing that this year! I'm ordering several more

31 bags

* - the Organizing Utility Tote - to store my projects in. All the pockets in this bag are awesome, plenty of room for all kinds of projects! I also use the Double Zipper Cosmetic Bag for my jewelry making tools!
I hope to get better organized this year, starting with my kitchen this week and moving through the whole house with the help of the 52 week challenge! I can always get more done when I have a clean home, and that makes for a happier family all around. :)
* I sell 31 products, please don't hesitate to ask any questions you might have or visit my page to take a look around. They run monthly specials that are always great!