This weeks meal planning was pretty easy. Not only will 3 days be taken up (Sat, Sun, Mon) with Christmas dinners, I didn't want a lot of left overs because I know we'll bring home Christmas left overs.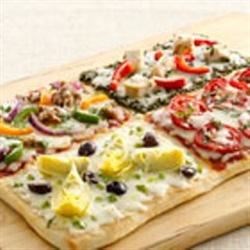 Monday:
Taco Casserole
Tuesday:
Marinate Chicken (Lemon Pepper)
Wednesday:
Left Overs
Thursday:
4-Square Family Pizza (featured picture)
Friday:
Grilled Cheese
Saturday:
Christmas dinner with Sly's family
Sunday:
Christmas dinner with my Dad
In an effort to lose some weight I've started eating a salad before lunch and dinner, which has done a great job of cutting down on the food I eat. I forgot to weigh in this morning, but I'm hoping for some good news tomorrow!