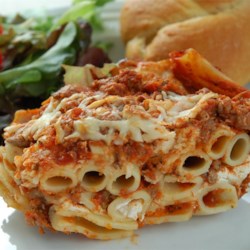 Baked Ziti from Allrecipes.com
Monday:
Baked Ziti
Tuesday:
Going out with Family - My brother is in town!
Wednesday:
Left Overs/Fend for yourself or Slow Cooker BBQ
Thursday:
Slow Cooker BBQ

(if we don't eat it Wednesday)
Friday:
Ham and Cheese Spirals
Saturday:
Easy Crescent Taco Bake
Sunday:
Garlic Chicken
I can't believe I've been meal planning for three months already! We often
don't
stick to the menu 100%, but it has been great for getting us to eat earlier and using the slow cooker. I often wouldn't plan ahead well enough to use it, and now we use it often enough we own two. Another thing I'm really enjoying is trying new recipes, we have found quite a few that have become staples in our house.