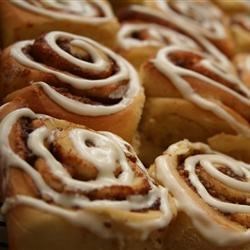 Cinnamon Rolls from Allrecipes.com
That homemade biscuit recipe tastes just like Bisquick. Which is great, we buy a ton (not literally but close) of Bisquick in a year, simply because it's easy. Waffles, pancakes, biscuits, coffee cake, etc. Easy, easy, easy. I can, in theory, make a batch of this mix much cheaper than Bisquick and use it instead. Yay!
Quick note about that BBQ recipe, I have used the BBQ recipe she references before but she uses a different cut of meat, so I thought it was worth linking to. I'm interested to see the price difference and how well it cooks.
Hope everyone had a great weekend!